Congenital Anomolies - Lid Disorders
Cryptophthalmos




A rare failure of lid differentiation

Skin over eye (no lids or palpebral fissure) that frequently blends in with the cornea which is usually malformed.

Congenital Coloboma

Often well tolerated

Involves primarily the upper lid

no keratopathy
Ankyloblepharon
Usually involves the lower lid

Distal part of tarsus rotated inward

Lashes abrade the cornea causing keratopathy

Permanent corneal damage is uncommon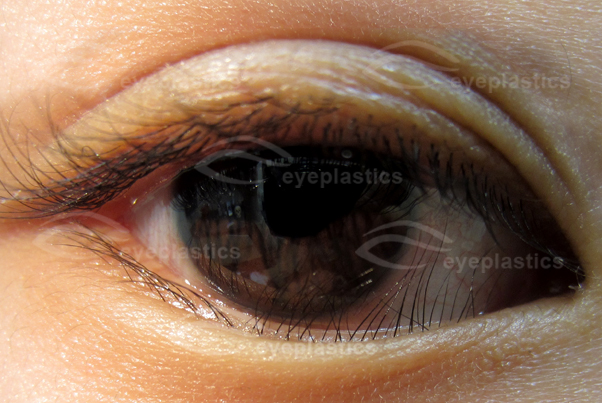 Epiblepharon
A horizontal fold of skin adjacent to either the upper or lower lid

Tolerated well by the cornea

Often spontaneously resolves in the originally years of life

Surgery only indicated for severe cases
Congenital Tarsal Kink
Child is born with the upper lid bent backwards often with a 180 degree fold in the upper tarsal plate

Corneal exposure and rubbing by the bent edge can lead to in ulceration
Distichiasis
An accessory row of lashes growing from the meibomian orifices or posteriorly

The lashes are thinner, shorter, less pigmented and often well tolerated
Euryblepharon
Epicanthus
Crescentic fold of skin running vertically between the lids and overlying the inner canthus. There are three types:

Inversus: If the fold is most prominent in the lower eyelid
Tarsalis: (Most people) The fold is most prominent in the upper eyelid
Palpebralis: If the fold is equally distributed in the upper and lower eyelids.
Telecanthus

Normal interpupillary distance but wide intercanthal distance
i.e. Waardenburg's syndrome
not: Hypertelorism, which indicates increased distance between the
bony orbits.
Blepharophimosis
Lipodermoid
Lipodermoids are epibulbar, developmental growths of normal adipose in an abnormal site, ie. near the lacrimal gland and extending between the superior rectus and lateral rectus muscles posteriorly.

Differentiation of benign lipodermoids from non-benign lesions is essential.

When other ocular anomalies or systemic conditions are found in conjunction with lipodermoids then Goldenhar-Gorlin syndrome must be considered.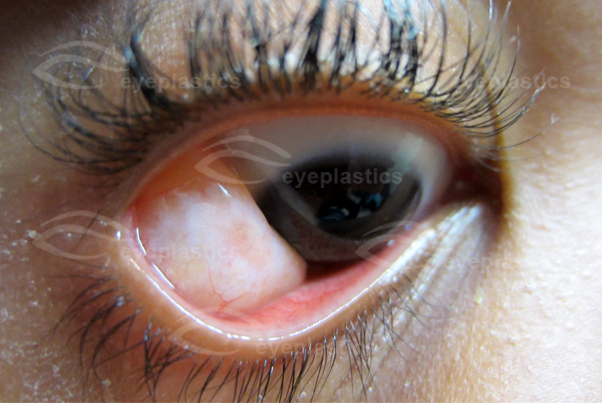 Deprecated
: mysql_connect(): The mysql extension is deprecated and will be removed in the future: use mysqli or PDO instead in
/home/eyeplast/public_html/application/modules/default/models/HeaderImage.php
on line
29